Tommy Trinder Case study
Startup / Saas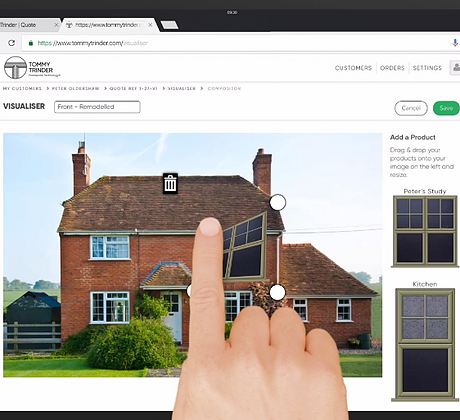 Tommy Trinder observed that when buying windows or doors it took sales teams a long period of time to collate manufacturer data. This made the end user experience of choosing and receiving a quote for windows and doors to be prolonged and time consuming. In addition, choosing the style of new windows and doors was tricky for the end user, who were often picking out of a brochure. Choosing the wrong style can be a costly mistake for the average homeowner.
Tommy's requirement was to change the interface between salesman, customer and supplier. They wanted a technology solution to link up the individual salesman with a wealth of manufacturer data in real time, to enable quick pricing. They also wanted a slick interface and a 3D representation of the finished window or door which could be overlaid on a customers home to radically change the consumers experience of picking new windows and doors.
Tommy Trinder's founder Rob needed to find the right development partner to realise his vision. This was where Lamp came in. Our experience in partnering with organisations as they build out digital products meant that we were able to build a technology solution to meet the ever changing and evolving business requirements.
Tommy Trinder was delighted with the result and is still a loyal client of ours after 4 years. But the real outcome was in the reaction of Tommy Trinder's new customers. Founder Rob said that the reactions were extraordinary, with customers 'bowled over and wowed' by the impact of the product. The windows and door industry is often neglected by technology, and this new software solves a real-life problem, designed with the people who work in this sector in mind. In short, it's had a huge impact.
Tommy Trinder's team describe this as a 'breakthrough' for the windows industry, and already have two patents pending. We couldn't be happier with the result.
It's been a brilliant working with Lamp. They're flexible, experienced and very good at what they do. The diverse skill set in house was hugely helpful, meaning that the right person was able to help with the right issue.